Hello again. Its been exactly 3 months and 14 days since I last updated. Quite a bit has happened since then as you can imagin, but I'll just give you the highlights.

I'll start with the sad news so you don't have to leave on a bad note, Dookie, my oldest hamster,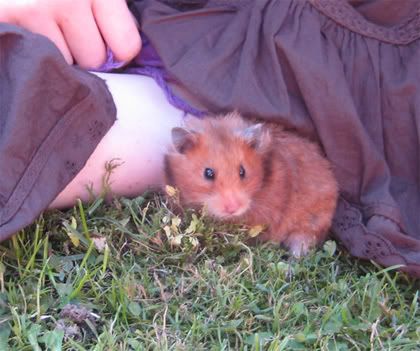 died of old age. It was very sad but not entirely unexpected. She lived a long hamster life of almost four years, and wasn't in any pain or distress as far as we could see, she was still running of the wheel and eating healthily, and breathing at a normal pace. But there comes a time for all hamsters to go, sometimes a little earlier then one would have liked.

If that wasn't enough sorrow, Dakota caught a cold just a couple of days after Dookie died, and a cold on top of her broken heart couldn't be healed. She died shortly after Dookie, maybe a month at best.

Just before the tragedy of Dakota's
death arose, we got a new hamster. Her name is scarface. We we're planning to find a more flattering name, but its too late now.
As you may have guessed, scarface had a lot of scars on her face when I chose her. There were many other hamsters that looks prettier then scarface, but I felt bad for her being the smallest and most bullied hamster in her pack.

As you can see by th picture I attached, scarface is a half albino, half blond hamster, with dark red eyes, a blond upper body and a white lower body. She is a very lovely hamster, but at the moment she's too scared to be held by humans, without trying to

jump away, and it will take a couple more weeks for us to gain her trust. It was the same with Dakota.

Scarface isn't photographed easily, she seems a bit confused as to what the camera is, so please forgive my out of focus or smudgy photography.

Now, I better move on to some more news. I, as you may know, am a very big Harry Potter fan, so I've decided to buy myself (and Mari) a wand from Alivan's! A small, trustworthy and well known wand making company.

I've been looking at quite a few, and have decided that the Indian Rosewood (Also know as Sheesham) wand would be really good, but I'm not 100%
sure its the one for me. Its 13 3/4 inches, which is a good length for me, pretty cheap ($15.99,) and very simple. They call it The Apprentice Wand, meaning a practicing wand, which I think is needed here :P

The Apprentice Wand is handcrafted of beautiful Indian Rosewood (Sheesham) and it is just right for a young wizard or Witch's spellcasting. Also perfect for both love charms and healing this wand has wonderful overall presence.


<-- The Apprentice Wand.

But perhaps I'll get a finely carved wand with twists and curls. I'll have to ask Mari's advice on that one.

At Alivan's they also sell stuff like broomsticks and Hogwarts school uniforms and cloaks, but Isabelle has already asked to make us some cloaks, and I don't know what I'd do with a broomstick, except maybe feel the urge to clean :P

Back to normal life, I've started to cook some Vegan recipes and they're so good I
never feel as though I need or want to go back to eating dairy products. My most recent creation was a rhubarb cake, as seen in the picture <--

It's really good and no one tastes the difference. Vegweb is the best vegan recipe site I've been to. One can even make Vegan chocolate cake, that's so good its eaten within a mere hour!

Anyway, I better be off now. I have websites to code, people to speak to and games to win, oh yes, and wand choosing to attend to. I'll try to update more often, until then goodbye!